Typos or het preferred pronouns?

Yep. Tells you everything you need to know. You asked the right question.
"I don't know what goes into paying off a porn star to keep quiet about an affair"
The best part is she has the opportunity to define woke in her follow up op-ed but doesn't. She mentions her failure or as she says a brain freeze with what she thought was a decent definition. Come on lady, you have the floor with plenty of time to work out a great definition that proves you just stumbled in the moment yet you don't. I wonder why?
She hits all the red flags for me beyond her book about "woke" without being able to define "woke". Proudly calls herself a "breeder", does home births, homeschools her children. Not that every parent of many children or every homeschooler is bad, but all those things together make me think, "yeeeesh".
You know what GOP'ers say when people say they are fighting against the sitting GOP president? "Traitor!! You must respect and obey our President!"
Yeah, we were just talking about the no-longer-Dixie Chicks the other day and how those who were aghast about saying they were embarrassed for President Bush, and how different things are today, where the different sides can't say enough bad about Obama, Trump, and Biden. The Bush comment is nothing compared to what is standard now.
In the event that Donald Trump is arrested, radical right-wing broadcaster Pete Santilli calls on the military and law enforcement to round up Barack Obama, Eric Holder, Susan Rice, and other members of the "criminal cabal," line them up against a wall and execute them.
And of course Donald J Trump was not going to let that one go:
"Ron DeSanctimonious will probably find out about FALSE ACCUSATIONS & FAKE STORIES sometime in the future, as he gets older, wiser, and better known, when he's unfairly and illegally attacked by a woman, even classmates that are 'underage' (or possibly a man!)," Trump wrote. "I'm sure he will want to fight these misfits just like I do!"
People who make those things their personality are the yeeesh people. I was homeschooled a bit and am not opposed to it for the right kids and right situations, would homeschool my own kids if it was right for them, I have 6 siblings, and I had a natural birth, but like….outside of this type of comment, where those things come up naturally, I really don't talk about them. Because they're not things I consider foundational to my identity. This woman…seems like she really needs to be sympathized for the martyr/victim she has decided she is.
No, just a typical republican.
That's a better way of wording it than how I said it, but is basically what I meant. It wasn't only her characteristics but she gives me vibes of that Duggar family nonsense.
And nowhere in her op-ed does she try to define "woke". Guess I'll have to read her book but guessing she doesn't define it there either; just rants against it, whatever it is.
It's hard to define woke. Fox News is struggling too:
"It is a feeling that you are not in the 1950's anymore, and that's bad."
How are they fighting this if they can't even know what they are fighting? Pull your finger out of your a**, imo. Not you, them, you know what I mean.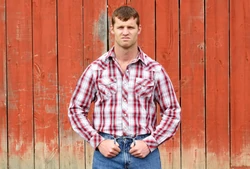 squirrelly dan would disagree