8484AD4
I am pretty sure it was personalized, but have been looking for a similar plate to double check letter/number combo order.
"eightyfour, eightyfour, EH! DEE! FOOOOOUR!!!"
Speaking of football, if you'd like to join the FSP contest, go here.
After a doctor's appointment this morning, I was in a Starbucks drive-thru line behind
TINKRBL
RELSHME
It was on the Weinermobile in a hotel parking lot.
Seen on Reddit: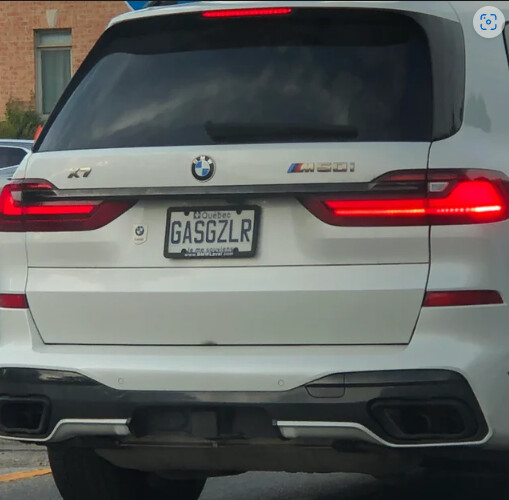 The Québec subreddit appears to be on a roll with license plates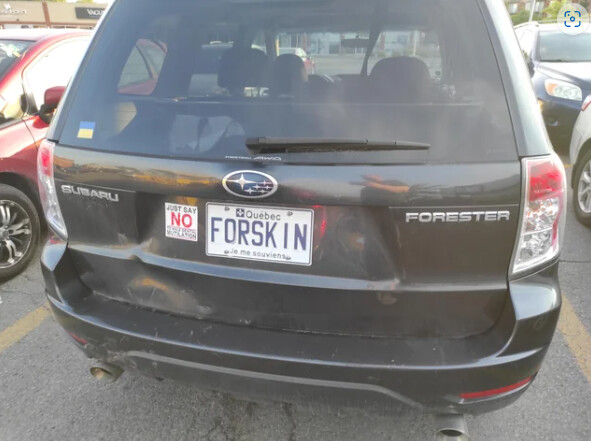 On Reddit, I came across someone reporting that in one Tennessee county the current-issue regular license plates are coming out in the format ###-BDSM.
I went looking for a picture. I was unsuccessful, but I did find the following web page, which amused me greatly:
i just saw an 8, the other day
George Costanza's second child? …or grandchild?
49, seven squared? Ron Guidry
Pure Michigan … what now?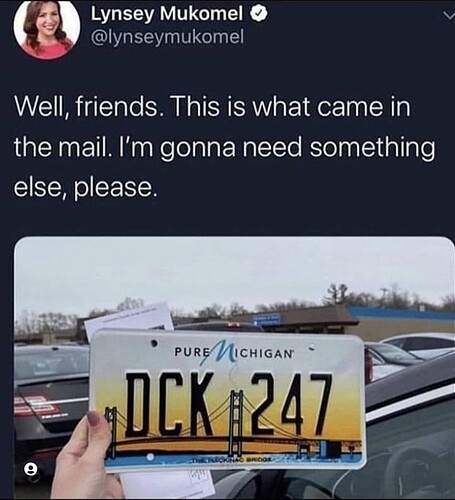 AFAICT this is actually real. I'd never heard of her, but apparently she's a political reporter and she's got a verified Twitter account.

is she objecting to the first word possibilities or that she will do it 24/7



Both maybe?
The placement of the Mackinac Bridge tower is also slightly… unfortunate.
Maybe her SO is not "pure Michigan".
Wow you guys have filthy minds. First thing that popped into my head was she has a boat at dock #247.