In Soviet Russia, COVID rounds you!
Talking to my ex about some medical bills for my daughter - she said that she's sending multiple kids home with Covid this week. Uh oh! Anyone else seeing their covid cases rise?
Not seeing them around me but I'm not that exposed.
That said my daughters Chemistry professor taught class while actively testing positive for COVID can't imagine that meets the schools stated COVID policy but ok.
And wife's ex-boss who just retired is stuck in Borneo for an extra week with COVID. Sounds like he's having a rough time of it so hope he's ok.
It might just be a localized outbreak related to back-to-school. According to the CDC Community Levels tracker, the number of counties "in the red" are trending down.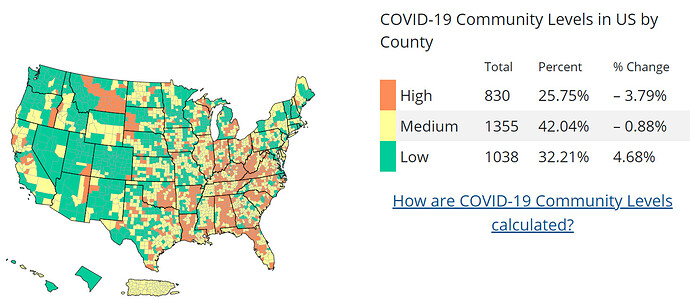 Alaska just doesn't count.
Looks like my ZIP Code is dropping, though its is the highest rate in my city. Lower than the County, so that's good, and lower than the MAGA town next door.
COVID seasonal rhythm sounds almost pleasant.
In the last week I know 3 people with COVID. I don't know if I've known 3 people in a season with the flu much less 3 simultaneously sick.