Hand-packed Lunchable: Pepperoni slices, cheese slices, entertainment crackers, raspberries
Pulled pork burrito.

Lunch tomorrow is going to be AWESOME.
I'm taking a few students ice fishing. Precooking fries today. We will take my camp stove out on the ice with us and have fresh fish and chips for lunch. Perch right out of the water.
breaded pork chop that I perfectly air-fried, roasted potatoes, spinach salad
I had a premade salad

that came with its own flimsy fork.
I also had a
hot pockets
which did not come with a fork.
So I used the salad fork to eat the
hot pockets
and this is what became of the fork…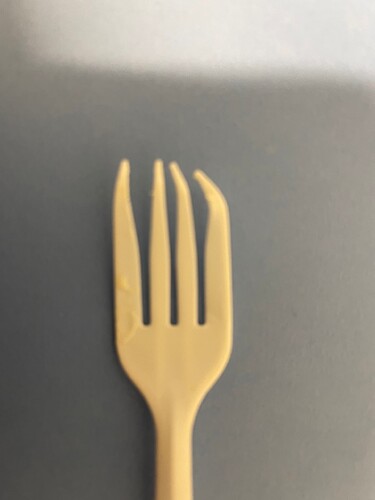 chatgpt

Write a stand up comedy routine about eating a hot pockets sandwich with a fork that gets melted

"So I'm sitting there, trying to enjoy my hot pockets sandwich. It's supposed to be a quick and easy meal, right? But no, I decide to be fancy and use a fork. And what happens? The fork gets so hot, it melts right in my hand!

I'm like, 'Great, now I have to go to the hospital to get my fork hand treated!' But then I think, 'Wait a minute, I'm not even sure what fork-hand is.'

And then I realize, I'm not even sure what a hot pockets sandwich is! I mean, I know it's a frozen pocket of mystery meat and cheese, but what is it really? Is it a sandwich? Is it a pocket? Is it a science experiment gone wrong?

But then I remember why I love hot pockets, because they're delicious and convenient, even if they do melt my fork. So I grab another fork, and dig in. And you know what? It's worth it, because sometimes, you just have to fork the rules."
Stuffed Peppers Soup. Leftovers from dinner yesterday.
Leftover Mexican from a new-to-us independent place.
Leftover Mexican (Enchiladas) made by my wife
Leftover brunswick stew. It's not what I'd call a typical brunswick stew recipe. It's a hearty chicken stew with okra, limas, potatoes,…
Ham 'n cheese sammich, coffee, and tiramisu from the Italian deli!!!

I poured a pint of Hot & sour soup over steamed dumplings
Plumbers were here, water was off and they were parked in my driveway. So I walked to Panera, it's cold here but it was a nice break.
Lunch today with our marketing person, indian. Dosa and medhu vadu.
Me: maaaadoooo vadooooo.
Them: wut?
Me: maaadooo vadoooo
Them: wut?
They came out from behind the counter and i pointed at the menu. Ooooh! Medivadi!
Me: isnt that what i just said?
Then we did the thing where they ask me how spicey i want and i point at my face.
What's for lunch? Nothing.
Had a flight leave at 11am local, and after flight time, time zone change, and ground transportation its too late for lunch.
Tricked my husband into wanting to pick up #BurgerKing for us after the Culver's thread, hope he gets back before my last meeting starts.
Left over Meatloaf sandwich
And related to the Things I'm Going to Buy and why thread, I just had two slices of Domino's pizza. And a cookie.
Lovingly reheated Domino's
!!!