Ham sammich with a side of pickles. And microwave popcorn!!!

macaroni cold cut sandwich. My SO puts lettuce on my sandwiches :). And always a side of pickles. I do dill pickles every year so we have lots. this year I actually grew both the dill and the cucs for the pickles.
Lunch is better at home, my SO makes lunch every day for me. When I went into the office, I got leftovers everyday.
2 hot dogs w/ mustard and sauerkraut
2 hot dogs with mustard and chili
Wooooo doggies!!! You are gonna be a fragrant fellow later tonight!!!
Friday is pizza day, at least while the kids are still remote schooling. Pizzeria pizza for 3 of us, and my son gets dairy free pizza since he's allergic. His little personal pizza costs almost as much as the two medium pies for the rest of us.
Pizza for lunch. Then leftover pizza for dinner. I have just enough left for a morning snack.
You had me at mustard, and again at kraut. I spent 33 years not knowing how amazing kraut is, so little time left to make it up.
Left over pot roast, mac & cheese, veggies.
Chicken pot pie and rice today.
Vegan "butter chicken" with lemon rice. It's got some spice to it!!!
Power outage brings me to office today, keeping it simple with dal and brown rice. Candy from EA's desk for dessert
Vegan assorted platter. Some of it is spicy!!!

Falafel, veggies, and rice


Also had some falafel, along with salmon, lentils and rice
Fried okra, fried mushrooms
leftover beef bourguignon.
so yummy!
Not quite lunch, but Christmas fruit cake that's in the oven: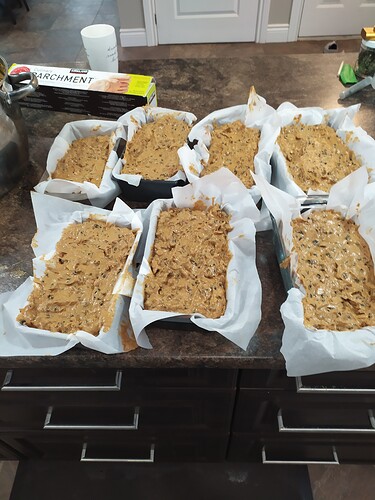 King George visited Ottawa in 1939. A bakery in Ottawa made a 300lb birthday cake for him. They later published the recipe in the paper. My grandmother clipped the recipe and made the cake every year. Then she passed the recipe on to my aunt who made it for many years. Now ive had it passed down to me. Same cake recipe for 80 years.


I'll make myself a ham sammich later.