Desantis is horrible, but i think he operates between a set of guardrails unlike Trump.
Reminds me of P.J. O'Rourke when he endorsed Hillary in 2016.
Although, I'm not convinced desantis actually is within the parameters.
IMO, that crowd is the Republican Party. It's depressing how popular Trump has been.
I think that wing of the republican party is now smaller than the "Log Cabin Republican" wing.
Trump and DeSantis campaigns are competing on Twitter about who did a "better" job of ignoring COVID. "You issued a lockdown order" "Oh yeah, well you developed a vaccine – and took it!"
I bet you washed your hands after going to the bathroom!
Elon Musk is heavily supporting DeSantis.
In unrelated news, SpaceX is now exempt from liability for crew member injury / death in launches from Florida.
Chris Christie reportedly will announce his candidacy for the GOP presidential primary soon.
I don't think he has even a remote chance. I'm not sure he could even win the NJ primary.
The more clowns jump into the primary field, the greater Trump's chances to win the GOP nomination IMO.
There is still an opening for an anti-MAGA candidate? None of the others have really come out hard against Trump.
I don't think you'll get hard opposition just yet, but Nikki Haley seems like the non MAGA candidate
"Ron DeSantis has a plan … With a sales tax here and a sales tax there. Here a tax, there a tax, everywhere a sales tax. … "
Catchy "MAGA Inc" ad hitting DeSantis for supporting a national sales tax (aka the "FairTax").
Here in Iowa, it is running every night on the local news.
It's interesting because it is the first non-culture issue that I've seen connected to DeSantis.
Of course the ad is misleading by ignoring the elimination of other taxes … but that's typical politics. I saw something that gets to the FairTax as an "eliminate the IRS". Also misleading, of course.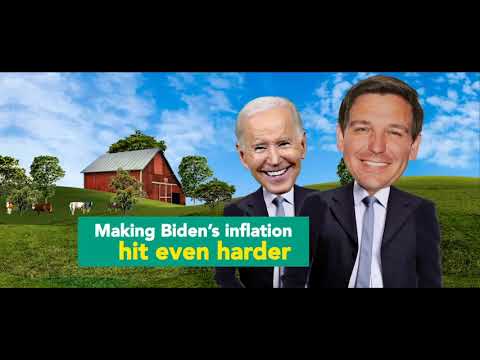 DeSantis says he would welcome bill to abolish 'corrupt' IRS: 'We need something totally different' | Fox News
And I still don't understand why unless all they are going for is a VP pick or the chance that Trump ends up buried in legal issues that he can't overcome. Why bother running if you can't form a coherent statement against the front runner?
I hope he is joining to go to debates and tell Trump stories.
How so? Nikki Haley worked for MAGA and said (after the insurrection) that she wouldn't run against Trump in 2024. Nikki Haley is MAGA.
Well she's certainly the least objectionable of the top 3 GOP candidates, which admittedly isn't saying much.
Are we talking about the same Nikki Haley?
Did not know that, but if I had to hold my nose and pick between Trump, DeSantis, or Haley she'd still be my pick.
Which is not to say that I like her. If I got to pick the next POTUS from, say, the top 100 candidates or so, then we'd be looking at President Klobuchar.
I've been pretty impressed with Buttigieg lately.
She's a Republican. I'm not saying she isn't, and I'm not endorsing her views. And she's not a never Trumper. But compared to DeSantis/Trump she is the non MAGA Republican option.