Isolating in the guest room, eating jello and pie.
Pulled together a nice spread last minute. Most of it came from a box, but that's probably how we would have done it regardless.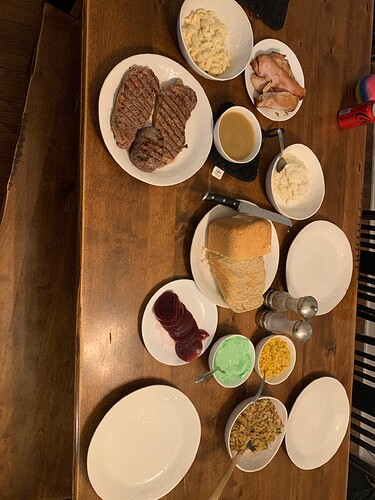 What's the top left above the macaroni? dark meat turkey??
And Happy Thanksgiving to all our American friends!!!
Steak! We didn't know if we would have turkey or not, so we had another plan. We ended up eating the steak and saving the turkey for leftover open faced sandwiches.
I see the steaks in the bottom left in the big dinner plate. It's the small serving plate on the other side between the macaroni and the gravy.
Ah, yeah, that's the turkey. Not sure if it's dark meat or light, we didn't get around to eating it Yet. My parents ordered one smoked and one roasted turkey this year, not sure what we got from them.

!!! Steaks look good too!!!

The best dishes on the table are always the cranberry sauce with the can ridges, and the sea foam salad.
At BIL/SIL's , smoked turkey and gravy, cornbread dressing; sweet potato , spinach rice cheese, corn, green bean casseroles; cranberry sauce; strawberry pretzel salad, pies and desserts. Nappage and football. 4 generations, 35 people including some guests.
My had them but I can't recall buying real vanilla pods.
The not so bad part of my thanksgiving is that I won all of my religious and political arguments…unlike one of my neighbors who had to call the police because the drunken arguments got out of control*.
*only a part of this story is true…well, confirmed as true.
My wife's foster brother showed up last night with a gun on his hip. Which is legal here, but it felt a bit awkward to see a gun at a family gathering.
WTF, who does this at a family gathering?
I suppose that it's better than leaving it unsecured in the car…
I believe this particular person is, to borrow a phrase from Reddit, ammosexual.