Died today at age 96 after over 70 years on the throne.
Wow. Thought she was going to make 100 for sure. Made it just long enough to put in the new PM.
Does Charles become the oldest "new King" ever?
She lived a great long life - may her memory be for a blessing.
Yes, Charles was both the oldest and the longest-serving Prince of Wales ever. He's been heir apparent for over 70 years and was made Prince of Wales as a young adult.
We still don't know if he'll take a regnal name as his grandfather and great uncle, and really most other kings did, or will choose to follow in his mother's footsteps and keep his given name. (My guess is he keeps Charles as changing would seem elitist.)
My Google News page believes that I do not want to know about this.
2 days into the new PM's term. It's good that she officially asked Truss to be PM before she died. Would have been awkward for Charles to do it immediately on the heels of his mother's death.
I'm in favor of being King Charles. England hasn't had a King Charles since the 17th century - that guy was known to be a real party animal.
Lectern in front of 10 Downing Street… Truss expected to make a statement imminently.
Massive crowd outside Buckingham Palace already.
Preparations for death were code named "Operation London Bridge", so when they said "London Bridge is down" it meant she had passed.
They're moving her to Lake Havasu??
Elizabeth Windsor will be a hard act to follow. That other Charles (de Gaulle) said it best: "apres moi, le deluge".
RIP my Queen.
Guessing the reference is to this one: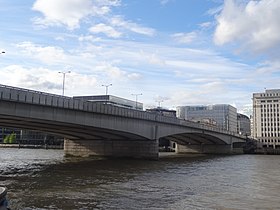 Charles is gonna have a short ass reign.
He's nearly 74, so even if they don't dissolve the monarchy, that seems likely.
LOL waiting like 50+ years to become King only to eliminate the position would be hilarious from the outside. Probably no so much if you're Chuck.
OK, finally Google News shows a report… in the "Entertainment" Section.
I can't believe they'd get this close, but not just go with "London Bridge is falling down" (and you could throw in the "My fair lady", as well)
Of course, this is the same country that wouldn't give you Boaty.
TMZ breaks all the best stories.