I'm not copying over the old Dataviz thread.
I will put in links to my articles later, but just wanted to grab this:
Consider the visualization created by information designer Will Burtin in 1951 to summarize the effectiveness of three antibiotics—penicillin, neomycin, and streptomycin—in treating 13 bacteria. Bacterial species are arrayed in a circular layout, with three bars for each bacterial infection representing the amount of each antibiotic needed to treat it. An inversion of the scale means that longer bars represent more effective antibiotics, aligning with a spontaneous interpretation of bigger is better, while shading behind the bars neatly organizes the bacteria into two groups according to whether they result in a positive or negative gram stain test.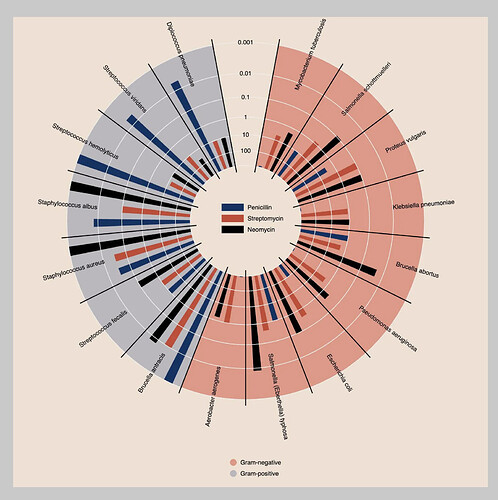 ROUGHLY 30 YEARS after Burtin made his graphic, the dataset he visualized would change. By 1984, scientists had reclassified two of the bacteria after realizing that the diplococcus pneumoniae (shown at roughly 11 o'clock in the display) closely resembled the streptococcus bacteria in their responses to the tested antibiotics, while the responses of the streptococcus fecalis (between 7 and 8 o'clock) were quite different from the other streptococcus. Despite the admiration the graphic received in its time, these errors somehow eluded viewers.

A counterfactual question naturally arises: if Burtin had constructed a more direct, statistical graphic of the dataset—a grouped bar chart, for example—might these scientific errors have been discovered earlier?

This is the question implied by statisticians Howard Wainer and Shaun Lysen, who, published a more conventional scatterplot, first created by Lawrence Finer and Christian Ryan, to illustrate this point in 2009. Where Burtin chose to emphasize a comparison of antibiotics' effectiveness, the new design prioritizes a comparison of bacteria to one another. Streptomycin values are omitted based on their close correspondence with neomycin values. Bacteria in the same genus share a color. The two mislabeled bacteria emerge as the suspects through the juxtaposition of color and proximity to other bacteria: Why is fecalis not in the top left corner with the other streptococci? What is pneumoniae doing there instead?