10/27 ?
Summary
For each of the moves, it has to be in one direction. So you can't go 4 to the right in the 2nd move since there aren't enough squares there.
11/09/2022 New Subdivision
Subdivide this region along the grid lines into non-overlapping squares and rectangles. Each rectangle or square must contain exactly one number that indicates how many small cells make up its area.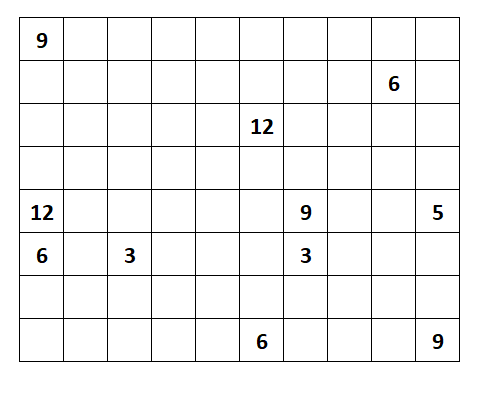 11/10/2022
In this numberless crossword, the clues for the Across and Down words have been intermingled into a single clue list. However, within that list, the Across clues appear in order from top to bottom, and the Down clues appear in order from left to right. Can you complete the grid?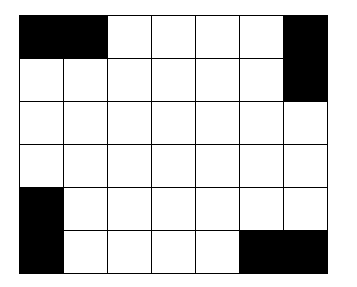 Clues: ____ film * game official * root vegetable * place to unwind * sculpt * skilled performer * cerebral _____ * thin layer * bearish * microscope parts * shopworn * old flames * according to
11/9
11/10
Now, that was fun
| | | C | U | L | T | |
| --- | --- | --- | --- | --- | --- | --- |
| S | C | O | R | E | R | |
| P | A | R | S | N | I | P |
| A | R | T | I | S | T | E |
| | V | E | N | E | E | R |
| | E | X | E | S | | |
Correct!
Yeah, this one seemed to have quite a few words in it that weren't what you thought were the obvious ones.
Coulda been a 4-color map

Edit: or maybe I'm colorblind?!?
11/9…
Summary

4 Colors Suffice!

I knew Dr. Ken Appel in college at the University of Illinois. Good guy, good teacher.
11/11/2022
Circle a letter in each word that can be changed to another letter to make a new word. Use the same replacement letter for all five words, but in a different place in each of the five words. The circled letters will spell a word. Use the same replacement letter with this word to make a final five-letter word. The replacement letter in Puzzle 1 is different from the one in Puzzle 2.
Puzzle 1
F I Z Z Y
C H A O S
S C O U R
S A I N T
L A Y E R

Puzzle 2
A C O R N
B U L G E
O U N C E
M E N U S
G R A N T

11/12/2022 Hog Wild
Can you name four one-word animals whose names are at least six letters long and end in the letters HOG?
11/11

FIZZY TIZZY
CHAOS CHATS
SCOUR SCOUT
SAINT STINT
LAYER LATER

ACORN ADORN
BULGE BUDGE
OUNCE DUNCE
MENUS MENDS
GRANT GRAND

FORAY and CLOUT
A hint for the 4th one:
It lives in the water. I'd not heard the term until I lived on the east coast.
i looked it up, but i don't spell it that way
Hint: Where is Family Guy setting at?