Yup.
Much excitement in France over their opening night win over the All Blacks.
Should be an exciting tournament.
I was really surprised by how much Ireland walloped Romania. I am also shocked to see Ireland is ranked as the top male team in latest rankings on Wikipedia. I guess I am out of the loop.
This is probably the best rugby team from Ireland ever. They're the only rugby Home Nation to not make the final four in a World Cup, so they'll be hoping to finally do that this year. Unfortunately, they probably have the worst draw for the quarter final, where their likely opponent will be France or New Zealand.
I have to think the Irish will be the sentimental favourite for many non-aligned fans. I will be rooting for them.
You sound a bit like me. I like watching rugby but only follow it during the World Cup. I was also astonished to see Ireland ranked #1. However there seems to be no dominant favourite.
Watched England play Argentina… wasn't very close in the end. That one guy was a ringer though.
Here's the thread for that. Hopefully a new team can win this time (looking at you, France or Ireland), although always happy if Australia does well.
I agree it would be better if another team takes it but SA is the team I am rooting for. It thumped Australia a few months ago. It is technically great.
Since the SA teams stopped participating in Super Rugby (real loss) it's not so easy to see how they are faring in between national games.
I still remember the excellent Canadian team of 1991. It was exciting at the time, because it looked like Canada could be a force for years to come. It was a shame that international rugby didn't invest more in Canada at the time. As a sport, they could probably do better at getting some of the fringe countries to be competitive. Argentina, Italy and Japan have improved though.
There are pockets in the US where the sport is popular. Maybe the other countries are secretly scared to grow the sport too much in the US though, as I think they would be amazing if it became a popular sport. It's a sport that relies on brute strength and speed more than skill compared to soccer and I could imagine quite a few NFL fringe players would make excellent rugby players.
Long time ago now, but this guy was arguably the greatest World Cup rugby player (sadly he died at the age of 40). The first try is also probably the most famous World Cup try -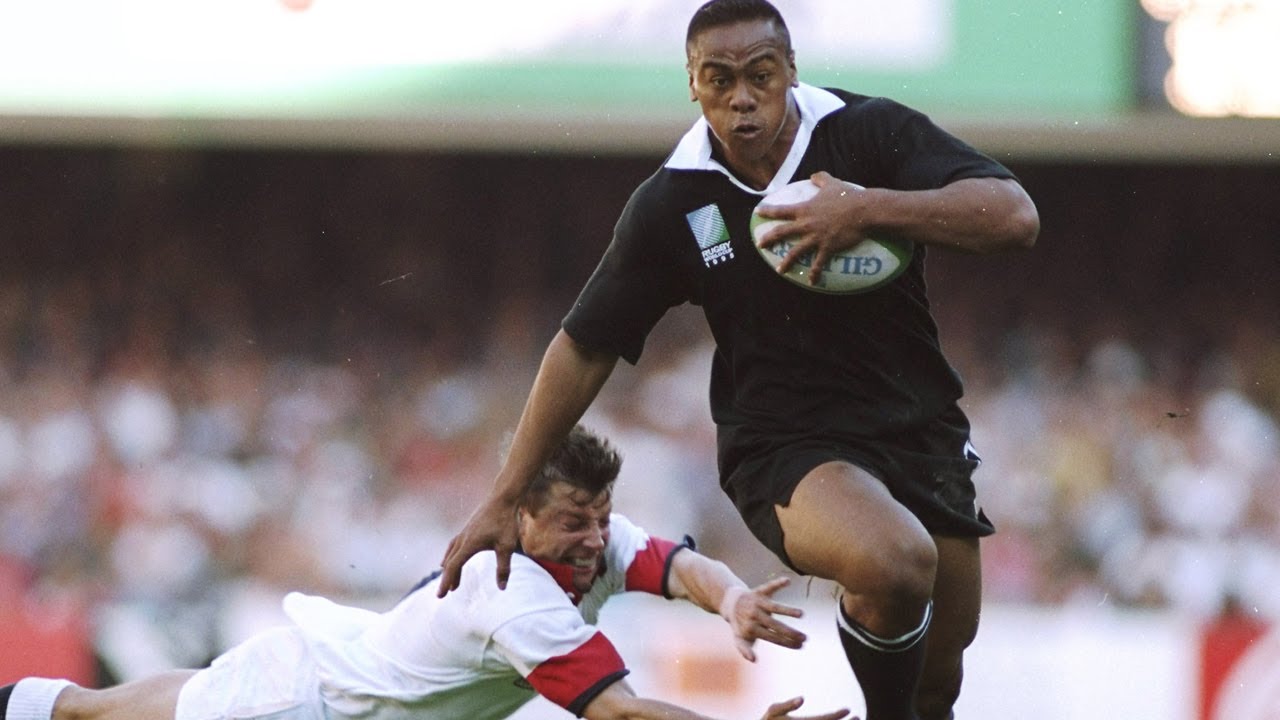 Definitely! I can also see the team plays being another transferable thing to rugby.
His loss was a real shame. I remember his hand-off and speed. It was amazing. He demolished teams in that 1995 world cup when he basically stole the show.
In Pool A, France seems to be on the way to be the strongest team. Very good game against Uruguay.
Was a bit confused about where Uruguay was in the first round of games then saw that the pools have 5 teams each. Interested in understanding why they didn't go with 4 teams per pool and have 5 pools instead of 4 pools with the 5 teams each.
They want to end up with a power of 2 for the knockout rounds. It's easier to work out who progresses if the number of pools is also a power of 2. The number of teams in each pool doesn't really matter (as long as they're equal).
Fifa was toying with 16 pools of 3 for the 48 team World Cup. They've since decided on 12 pools of 4, which is going to make it more complicated to work out the extra 8 teams for the round of 32.
8 pools of 6 would have been better.
Fiji vs Australia.
Summary

Awesome performance by Fiji after nearly beating Wales the other day. First win against Australia since 1954. They've always been amazing in 7 a side, so it's finally converting to 15 a side. Seven of the Australian players have Fijian heritage, so if Fiji can get all their players back, they'll be even better.
Real good showing by Fiji. Easily the most exciting game of the weekend.
Can't wait to see South Africa vs Ireland this coming weekend. Both teams are playing excellently.