Chain restaurants (and commuting by car)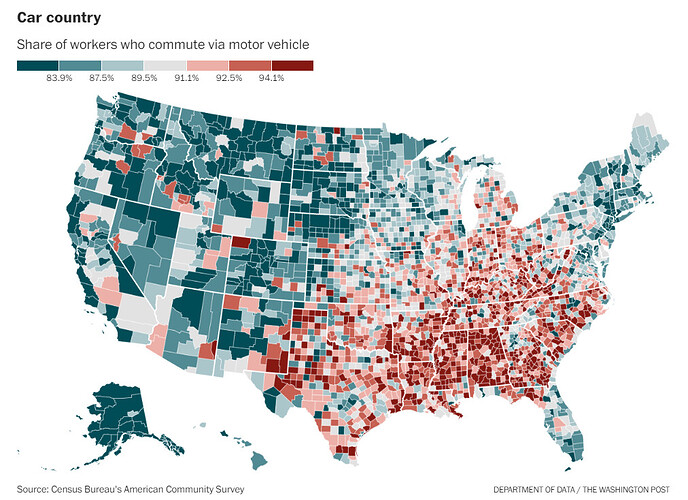 In the end, we identified one factor that transcended politics and explained the presence of chain restaurants throughout the nation: driving. Specifically, the share of the workforce that drives to work each day.

The places that drive the most tend to have the same high share of chain restaurants regardless of whether they voted for Trump or Biden. As car commuting decreases, chain restaurants decrease at roughly the same rate, no matter which candidate most residents supported.

If the link between cars and chains transcends partisanship, why does it look like Trump counties have more chain restaurants? It's at least in part because he won more of the places with the most car commuters!

About 83 percent of workers commute by car nationally, but only 80 percent of folks in Biden counties do so, compared with 90 percent of workers in Trump counties. The share of car commuters ranges from 55 percent in the deep-blue New York City metro area to 96 percent around bright red Decatur, Ala.
Also, a nice map that shows you where the urbanized areas are: (and also what the "chainiest" areas are, too, but mainly so you can see what the urban sprawl looks like in the U.S.)