My post was a joke.
FFS people
I figured yours was a joke. Not as sure about VA's reply…
Yeah, I have no clue what's going on there
This article starts out talking about a candidate for mayor that has been disqualified for failing to file required financial disclosure reports. Not the WTF part.
Here is the WTF part. Q is running for office. Not sure if that is the one from ST:TNG or QAnon.
In Provo's District 2 race, there is only incumbent George Handley and challenger Suzanne Q. running.

According to Ercanbrack, Ms. Q. has asked that her last name not be revealed for protection sake.

"This is confusing for those trying to organize debates," Ercanbrack said. "They don't know how to contact her."

Unlike the other candidates, Q. has no photo, or contact numbers or addresses on the Provo.org election/candidates page.

It also will be difficult to be a councilmember without the last name available as they are assigned to work on committees with residents and other city stakeholders as well as connect with constituents.
Wow, that's a lot. If he didn't report the snake's escape, how did people find out it had escaped? I missed that part of the original story.
I would be inclined to let a lot of the stuff go, but throw the book at him for not reporting that it had escaped. That's something you obviously want to encourage exotic animal owners to do.
The part about it probably (?) being illegal to own will prevent a lot of said reporting.
Akin to "Someone stole my stolen property!"
Better example might be "someone stole my illegal drug stash."
Would have said MJ but that is now legal in lots of places.
Oh, I thought I read somewhere that he WAS allowed to own it, but he was not containing it properly. (Cage not properly secured and labeled).
IANA exotic animal state law expert.
But yeah, reporting the escape of any illegally owned animal is problematic.
When people spot a cobra on the loose, it doesn't need to be reported by the person who kept the cobra as plenty of other people will be reporting it.
But anyway, trying to look up more info, I came across this:
In North Carolina, it is legal to own exotic venomous snakes, but there are multiple stipulations.

According to Article 55, an owner must know and have labeled each of its species, know the proper antivenin that would be required for it, have a bite and escape plan, and if an escape does happen- the owner must notify law enforcement immediately.

"It was originally written to deal with snake handling- religious snake handling that was happening outside of the churches on public squares," Bradley said of the statute that has evolved over time to address the increase of ownership for other purposes.
and here I thought all the snake-handling churches were in Alabama
Oh and the bit I meant to copy first:
Raleigh Police said they first learned of the escaped snake Monday evening from a 911 call in the Brittany Woods neighborhood near Lynn and Leesville roads. The call was not from the owner of the snake, but rather someone who spotted it near his home.
Oh yikes, my family used to live around there.
Yeah, if i saw a cobra in the neighborhood, I'd be calling animal control right away.
It's interesting that people spotted it. I rarely see any snakes near my home. Unless they electrocute themselves on my A/C compressor anyway. I'm sure they must be around; my yard is full of moles. So I hope they are anyway.
It's a pretty large snake… I think you'd be calling this one in.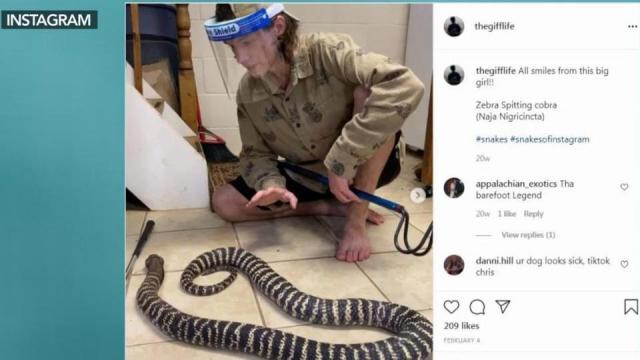 After giving a ticket to someone, cop sees on of the person's friends crumple up a "Back the Blue" flyer/sign that had been produced by his sherriff's office and throwing it in the trash, while giving a smirk.
Cop arrested her and charged her with a misdemeanor 'criminal mischief' with a 'hate crime' enhancement.
"hate crime"? I would have said "freedom of speech". I can see the misdemeanor charge if it was someone else's paper sign, though.