May this year be better than the last one. And best wishes to all my goactuary friends.

HNY everyone! Planning on an awesome year!
Happy New Year!!!
I am hoping for a better year as well.
Happy new year folks.
I got up at 5:30 this morning. Spouse and kids stayed up drinking wine until I don't know when. Normally I make my spouse tea in bed around 6am, Judging by the silence in the house right now I'm guessing they don't want to be woken up to tea right now. Maybe I'll wait until 9am today lol.
I was reminiscing about new year's eve 1999 when we were all waiting for the world to collapse. Then, I realized I'd lived more of my life after that year than before, felt really old, and decided that meant it was ok for me to go to bed at 10:30.
Made my spouse tea at 9. They're still in bed. Apparently they went to bed at 230. Sounds like a fun party that I slept through.
That's fine, I'm getting lots of work done this morning. I can record some videos without the dog barking in the background or people walking by my office door in clear view of the webcam.
Sounds like my household. Happy New Year.
From a facebook post of a former AO regular. I didn't see it until just now, so I couldn't take his advice.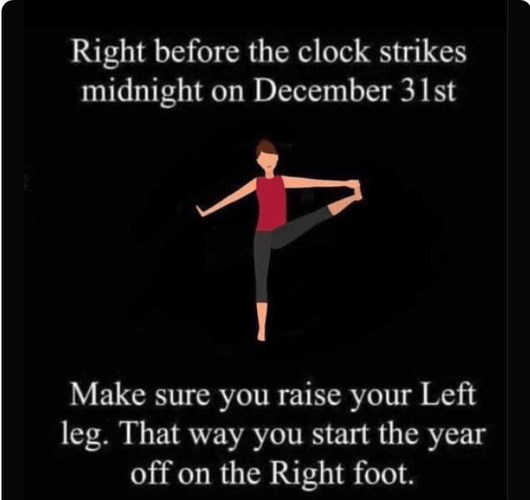 I went to bed about 10:00 last night, so i missed that "fun". However, I woke up to find the "ThunderWunders*" canister out on the kitchen counter with a few "treats" on top…implying that the dogs needed some "comforting" last night.
*imo, the "with hemp" are more effective than the "w/o" option.
I heard some random fireworks last night too.

I wish I had thought of this perspective, I could have been asleep on time instead of yawning my head off while I waited for midnight. I mean, I could have been asleep on time, but my spouse would have been sad about it.
I made it to midnight with friends playing games.
Usually, we make it to EST midnight, then go home.
Now up today, resolving to drink more.
There were very few


around here last night. My UGA fan neighbors who sometimes light it up on the 4th must have been too emotionally drained to do much celebrating. My dog doesn't mind them too much, so i was slightly disappointed.