Hi!
We put together some free resources we think you'll find helpful as you study for Exam 5.
We created Excel versions of all the case studies from the Werner Ratemaking and Friedland Reserving syllabus textbooks. This is one of the workbooks:
Dropbox link to the Werner Appendix A workbook
I think you'll find them very helpful for studying to see more clearly how the exhibits and methods work. We have those on the Rising Fellow site for free as a resource for Exam 5 takers:
There is a simple email form you can enter and you'll get all the exhibits emailed to you along with an extended excerpt of our new Exam 5 Cookbook and a few other study resources.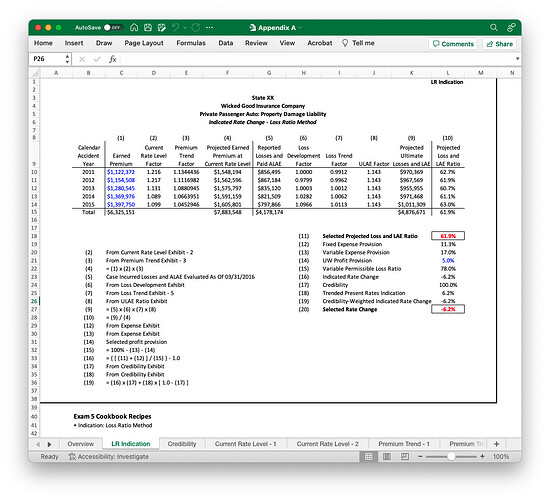 Below is a summary of all the exhibits:
Werner Ratemaking Exhibits
Appendix A - Auto Indication
Appendix B - Homeowners Indication
Appendix C - Medical Malpractice Indication
Appendix D - Workers Compensation Indication
Appendix E - Univariate Classification Example
Friedland Reserving Exhibits
Ch. 7 - Development Technique
Ch. 8 - Expected Claims Technique
Ch. 9 - Bornhuetter-Ferguson Technique
Ch. 10 - Cape Cod Technique
Ch. 11 - Frequency-Severity Techniques
Ch. 12 - Case Outstanding Development Technique
Ch. 13 - Berquist-Sherman Techniques
Ch. 14 - Recoveries: Salvage & Subrogation
Ch. 15 - Evaluation of Techniques
Ch. 16 - Estimating Unpaid ALAE
Ch. 17 - Estimating Unpaid ULAE
Good luck studying!
Steve