Congrats, Warriors.
As usual, we are way behind ESPN in too-early stuff.
So, draft coming up.
The Warriors will have a lot of tough salary decisions even if they want to spend like there's no tomorrow which they have shown a willingness to do.
Loony, Porter, Peyton could all be cap casulaties.
Wiggans could actually be a trade candidate due to salary
Poole is due for a large raise
Beljilica is gone and Iggy will retire.
But with just Curry, Thompson, Green and Wiggans they are already over next year's cap.
Would love to see Wiggins play in his hometown but Raptors don't have the cap room to sign him and they have a great core of young players that shouldn't be traded. Wiggins made a good impression in these playoffs so someone else might offer an attractive trade for him.
I'm sure the Warriors would love to keep as much of their core together to try an repeat before Curry-Thompson-Green get caught by father time, but it's a salary cap league and something's go to give.
The Jazz released their rebranded new unis for next year.
The purple one is a throwback while the others are new.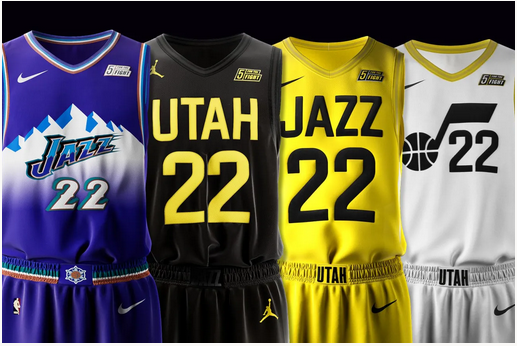 Banchero at 1 a shock as all the talk was about Smith or Holmgren. I think Banchero was the best player and the player I would have taken but that did not seem to be the "experts" pick.
Keegan Murray at 4 is still surprising to me. As an Iowa fan I just don't see him the same way as the scout do
Local ESPN talk radio had the 3 guys guess at #1 and 2 of them picked Banchero, so not so much a shock to me to see that happen.
Some might have had inside information.
Lol Kevin Durant requests trade from team he assembled.
Right after Kyrie opted in.
Gobert off to MN. Jazz are building for the future it seems. Hope Mitchell can stay at the top of his game long enough for the coach and all their 1st round draft choices over the next few years to mature into a great team.
Now they are saying Utah is looking to deal Mitchell.
Danny Ainge should have stuck with baseball.
And "they" said Chet Holmgren was not durable enough to be an NBA star… well "they" might be right
I haven't seen all the details but is sounds like he F—d around, literally, and found out.
Internet rumor is it was with Kathleen Lynch - Team Services Manager (so subordinate) along with apparently being the wife of Patrick Lynch - Celtics SVP of Finance and Team Controller.
And the Warriors have begun an investigation into how the video was leaked.
Because that's always more important than the incident.
I didn't even realize the NBA started yesterday. Seems like the Poole-Draymond spat didn't affect the champs on G1.