I used to collect axes and knives and machetes and such.
Is that what you young people call it these days???
Confirmed via Urban Dictionary.

I collect planner stickers. And essential oils.
I get obsessive about things. I've collected antique sewing machines, eyewear, Rothy's, blazers, Toms, switchblades, Converse low tops, high end leggings, Agatha Christie leatherette novels and I'm probably forgetting at least half.
Mostly though I collect hobbies. I'm a quirky person, I think.
Mostly old crap. Antique furniture, lamps, some gas & oil stuff. Have a ~1945 gas pump, an authentic Route 66 sign. An old oil stove from 1890. I've rewired a bunch of antique lighting fixtures and installed them. I have a butcher block from the day when they just sliced out a cross section of a tree and put legs on it - 19th century, maybe 1880. A Victrola. And so on, and so forth.
See? I completely forgot about that, and I just bought some more recently!
Same company, or are you branching out? I'm almost due for a bottle, so if there are recommendations I'm all ears.
The same for me, I haven't had any recommendations otherwise to switch, been very happy! My kid loves the bottles when they're empty, too, he thinks they're for potions.
I used to collect balisongs (butterfly knives), but I was a college student so it was mostly random $30 blades which were illegally sold at Asian import mall stores or online. It was small enough that I guess the police wouldn't shut them down. but illegal.
My favorite but most useless was the double-bladed one. (Doubly illegal, can't have 2-edged blades in my state.) Couldn't do most tricks with it because it'd cut you the fuck up. Even the most basic opening you learn needed modification. Because no safety edge, you would be twirling a blade on your finger.
I had a $180 Benchmade (quality brand) but it started grinding, and I must have fixed it wrong because it never worked quite perfectly again. Bit the shit out of me a few times though, very sharp.
Between that had maybe 12 versions of varying shittiness. I could do a moderate amount of flips, twirls, behind the back passes, worse with my left hand but could do things.
Collected a few scars from it too.
I keep thinking I should get a practice (blunt) or joke (bottle-opener) balisong for fidgeting during meetings I don't actually need to pay attention to.
I do "themes" for rooms. Living room is fishing and pix of bridges, BR1 is music, Bath1 is waterfalls, office is lighthouses, poker room is bourbon and beer. So whenever I see a little something that fits I'll get it.
My wife and I collect bottle openers. Every trip we take we try to buy one that represents the area and is unique. I need to arrange something to display them as they are mostly stored in drawers now, with the exception of a couple dozen on the side of the fridge
ETA: pic added to show a fraction of the collection that's on the side of the fridge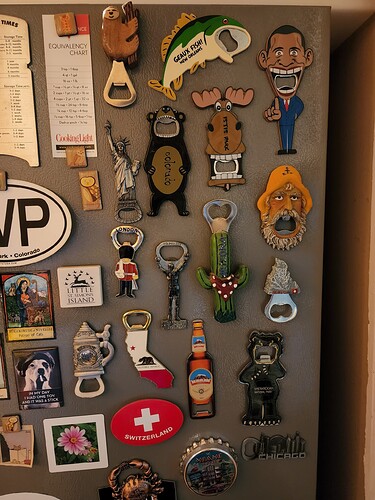 It's on the side of the fridge in a narrow spot near the counter. You don't really see it unless you go to that spot looking for it. The front of the fridge has nothing on it.
No spoilering - but I've also been collecting something for white elephant gifts. I have 219 of these RN to gift.
Not bottle openers, but we do buy a fridge magnet on every trip. Ours are also on the side of the fridge, although more visible.
Same, we get a fridge magnet and a little tchotchke from each city or country we visit. We try to make them unique and less touristy, but that's hard in some cities.