Thread for cat stuffs.
Here's my current cat-astrophe…
My cat is lost. Or just doesn't seem to want to come home or something. Which is ridiculous, because we're talking about the world's neediest cat-dog, whom actually gets in the way of other cats when they try to love on me, and has also been caught growling at the mailman from my lap.
This is Jeeves, living the outdoor life since Oct 16th, 2020: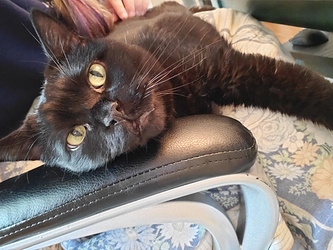 Jeeves has gotten out before. The last time he was back within a day after we decided to leave the garage door open and happened to catch him in there at about 2 AM. The time before that, he wasn't my cat - but I've been told he was gone for over a month, and was not the first wild creature to be discovered in the cat trap.
We live in a fairly isolated community right now (good for quarantining), so we've put out the alert and tried all the standard cat catching techniques. Last Friday, we had two sightings - both in the same area, and both just far enough that we asked another community member if we could move our trap to their property (they were very kind folks). We had our target trapped within 2 hours.
Say hello to…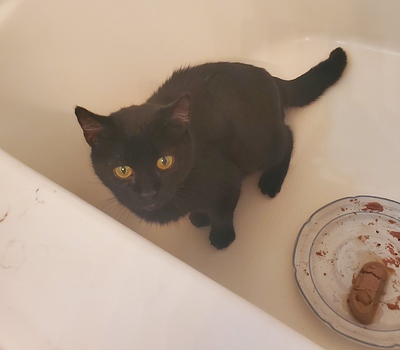 …not my cat.