Look, kids, it's the James Buchanan sewer.
Andrew Jackson might be looking for a new place for his name
That's why I liked the Prince-themed ones.
Eh, can you be a traitor to a country that either
A) definitely doesn't exist or
B) claims they exist but no one outside of said country recognizes them as a legitimate country
?
Even France didn't recognize us as a real country until 1778, and they surely must have been the first to do so, given their centuries-long feud with England.
Hey, Jim. It's BG5150. It's a tight race, but you gotta find me another 200 votes for Plowy McPlowFace
I also liked 'Plowin' in the Wind,' what with Bob Dylan also being from MN.
I actually didn't know that or I might've been inclined to vote for that one too.
It's weird, I have heard a lot about Prince being from MN, but for whatever reason it seems to be much less well-known that Dylan was from there.
If you haven't seen 'No Direction Home' (the Dylan biopic), it's on Netflix and I highly recommend it.
For amusement, you can follow some Scottish "gritter" trucks:
https://www.arcgis.com/apps/webappviewer/index.html?id=2de764a9303848ffb9a4cac0bd0b1aab
My snap right now: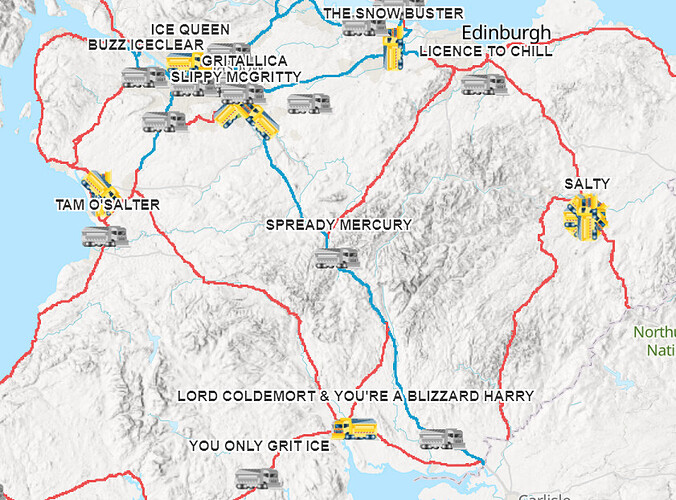 On the bottom, the grey truck w/o a name is Gritney Spears
I think a name the Texas Snow Plow contest would be a lot of fun
Nowhere Man
Cruz Control
Shit Storm
Tilting at windmills
Abbott and Cost Too Low
Your Dollars, Taxes at work
Is that No-where man or Now-here man. I guess it works well either way.
Remember the AlaPlow
The Lone Plow State
Don't Plow with Texas
It's a Texas plow, y'all wouldn't understand
Everything's Bigger in Texas…except our plows
And it's Plowy McPlowface.
Here are all the winners (full results at Name a Snowplow contest - MnDOT):
ST story

The next time it snows, the Minnesota Department of Transportation will dispatch Plowy McPlowFace to clear the roads. Darth Blader and Plow Bunyan will be out there, too.

They are among the winning names in MnDOT's "Name a Snowplow" contest in which the agency sought witty monikers for the large orange vehicles dispatched to clear snow and ice from the roads.

MnDOT in December solicited suggestions for naming one plow in each of its eight districts and received more than 22,000 ideas. Staff winnowed the list to 50 finalists and put them to a vote.

"We are amazed by the number of creative name suggestions people proposed," said Minnesota Transportation Commissioner Margaret Anderson Kelliher.

More than 122,000 unique voters took part in the contest, with the winning names announced Tuesday.

Plowy McPlowFace got the most votes — 65,292 — and one plow in the metro area will bear the name. Other winners include Ope, Just Gonna Plow Right Past Ya (29,457), Duck Duck Orange Truck (25,824), Plow Bunyan (22,016), Snowbi Wan Kenobi (21,568), F. Salt Fitzgerald (20,699), Darth Blader (20,344) and in a nod to Prince, the Truck Formerly Known As Plow (17,549). Totals for the 50 finalists are available on the MnDOT website.

"We thank everyone for their votes and participation in this fun contest, and through the process, becoming more aware of our snowplows, the tireless women and men who operate them, and the work necessary to keep our roads safe," Anderson Kelliher said.

The idea for the contest gained traction after Roadshow, a transportation website, in December posted an article — which went viral — explaining how Scotland names its entire snowplow fleet and posts a map showing their location. The country calls the vehicles "gritters," the article said, which led to witty handles such as "Gritney Spears" and "Gritty Gritty Bang Bang."
interesting that it won. i got too lazy to actually vote since you had to pick several choices, but i likely would have voted more for the prince references. i guess since you had to pick several choices, a lot of people probably threw that one in. it's sort of catchy, but not my first choice.
Even though it was my first choice, it's going to grow old rather quickly.