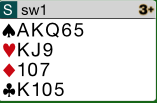 Nice hand. Favorable vulnerability. Imps. Your RHO passes.
You elect to open 1NT despite the good 5 card spades and the low doubleton diamond. Do you agree? The result would certainly be different if you had opened 1S.
The auction gets competitive and perhaps strange.
P - 1 NT - 2H (a) - 3C (b)
P - 3S © - Double (d) - P
P - ?
(a)

(b)

©

(d)

What do you call now? Unfortunately for this thread, I did not check what various calls would have meant, but don't think any potential meanings would affect your call, except that it might be nice to be certain what redouble would mean. Not the call I chose, so I cannot see the meaning now.
Full deal to be revealed tomorrow, if anyone has responded.