I do not. And I don't even understand the data, I can't imagine trying to explain it to someone else just yet!
I haven't had good luck with interns. They've been prone to the most egregious of errors.
Every time I have ever painted anything in my home, I underestimated the amount of paint I would need, so it would turn into multiple trips to Lowe's. Every damn time. So today when we went, we spent a lot of extra time making sure we had everything we needed to paint, and we bought two gallons of paint.
Well, we used maybe 3/4 of one gallon of the paint.
And it is a beige color, so one would think, fine! Repaint another room with it! We are looking to repaint a lot of our house. But my husband hates beige walls and this was the only beige area we had planned to do. So it's either paint another room beige that we hadn't planned on, or waste a $50 can of paint.
In happier thoughts, the stairwell and upstairs hallway do look really nice! I let my kids pick out new colors for their rooms - one is a medium blue and the other is a very light spring green right now. The medium blue is becoming a light green (different shade from the spring green), and the spring green is becoming a light purple. Our living room will probably be painted a very soft, buttery yellow. Our dining room will stay Tiffany blue. The bathroom might go from a light sage to beige, that's the only real option for that paint. Not sure what our bedroom will be, but a heathery grey or periwinkle sounds nice (it's currently light blue).
And while I don't love spending $50 on a can of paint I'm not using, repainting a house is a relatively cheap way to spruce up a boring space.
Health insurance.
My doctor accidentally prescribed one of my meds as "tablets" instead of "capsules". Well, my insurance only covers "capsules". Otherwise, same exact drug. They wanted $120 for it. Had to go through several calls to get my "capsules" again. Always some shit to deal with.
Is there a laundry/utility room that you could spruce up with the beige paint that your husband might not care about so much?
Nope! Our house is 100+ years old, the laundry and utility area is the cinder block basement. We have 9 rooms total: living, dining, kitchen, 3 bedrooms, bathroom, sewing room, and pantry (the last two were previously a sleeping porch and three season room, they're on top of each other, almost all windows, next to no walls, wouldn't even use the rest of the open gallon of paint to repaint both).
Can you paint a quilt?
Looks like you might be taking it to the Habitat Restore, if you have one?
I don't like painting, but I've gotten better at it and can tolerate it now. Agree that it's the cheapest way to add value to a house or brighten up a space. The game changer for me was buying a $20 Corona paint brush, it's so good at cutting in along the ceiling. I don't use much painter's tape anymore.
We do have one, and I literally never would have thought of it, so excellent suggestion!
I love the Restore. It's hit and miss, but I replaced a tacky 1990s fixture with an antique thing I got for $3 at Restore. Well, plus about $6 to rewire it, it still had the original parts circa 1910 or so.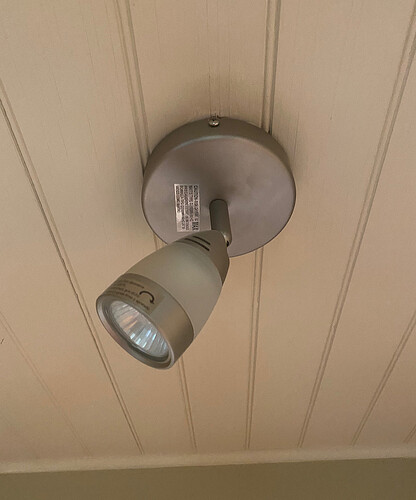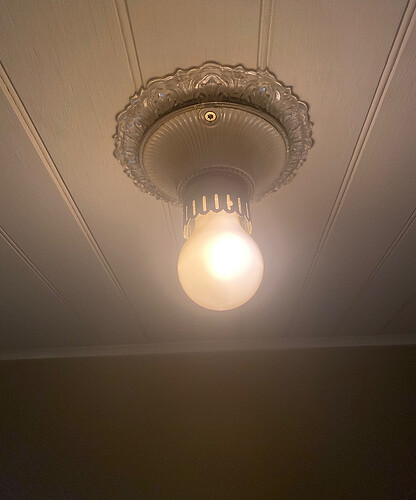 It's an improvement! I enjoy all your antique posts, seems like a challenge to wait to find the right items (I don't think I could do it).
So this is clearly a joke, but people DO paint and dye quilts, mostly those that are used as well hangings/art, and I have considered doing this with the dollhouse quilt I am planning. Obviously not with wall paint…
It's kind of a hobby at this point. I do enjoy strolling through antique stores or doing the occasional auction. Facebook marketplace and online auctions can make it less time intensive.
I've come to accept the fact that century homes are never done. You have to appreciate them for what they are and try to be a decent steward, I guess.
This is a recent quilt I saw on Reddit that someone painted (with actual paint and also thread painting) that I think looks really cool.
My husband doesn't understand why this is making me ill. If he fell sideways off that ladder, it would be a two story fall.
We are replacing our terrible carpet with luxury vinyl soon, and are going to repaint the trim and banisters finally - the wall is just the first step.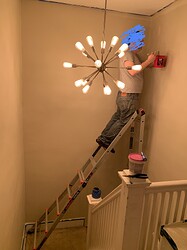 I'm glad I wasn't around when the contractors were stripping wallpaper in our stairwell. The only thing that could be worse than stripping wallpaper in a stairwell would have been hanging it in the first place.